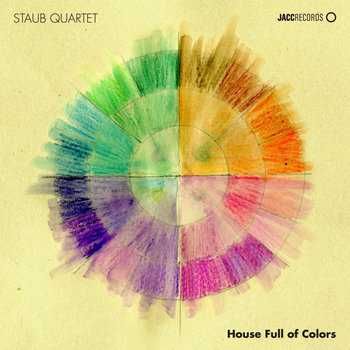 House Full of Colors
Staub Quartet
JACC Records
Miguel Mira - cello
Zingaro - violin
Hernani Faustino - double bass
Marcelo dos Reis - acoustic guitar, prepared guitar
The musicians who make up the collective known as the Staub Quartet are part of a vital Portuguese improvised music scene and have been featured in many combinations. Hernani Faustino is part of the amazing RED Trio, while Miguel Mira is one-third of the Motion Trio with Rodrigo Amado and Gabriel Ferrandini. Marcelo dos Reis is one of the principals of
Cipsela Records
, which has a small yet distinguished output, including a solo album from Zingaro.
The six tracks comprising
House Full of Colors
are fully improvised, and I actually approached this with some initial hesitancy. There are a lot of free improv recordings getting released these days, and I find myself with less of an appetite for abstract explorations of timbre and texture, with seeming little interest in forward momentum.
Given the quality of the musicians in the Staub Quartet, I should have expected that they would provide something of value, and they do. The members are adept at moving in one direction and supporting each other, so the music seems to have a composed element to it. dos Reis occasionally introduces repeating figures from his guitar, giving those tracks a unique blend of chamber music with an almost folk influence.
There continues to be a lot of quality jazz and jazz-influenced music coming from Portugal, and
House Full of Colors
is a worthy addition.