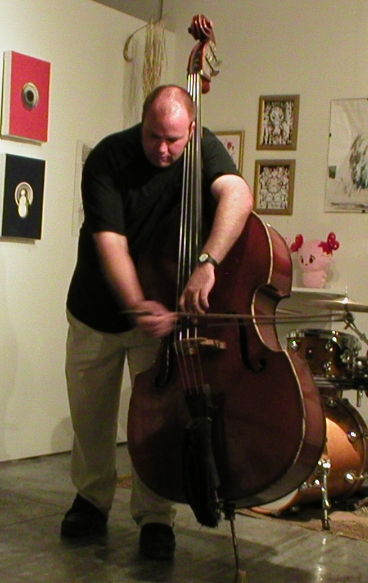 Wrapping up this series of "My favorite things" is bassist Damon Smith and his label,
Balance Point Acoustics
. Smith was active on the West Coast avant-garde scene, founded the label in 2001 and then relocated to Houston, Texas in 2010. Damon is known for his adventurous playing, an insatiable thirst for listening to new music, and his culinary adventures (which he documents on Facebook). He's also known for his outspoken opinions on other players, something of a rarity among improvising musicians, at least in public. I recall his comparison of MOPDK's Kevin Shea to Jimmy Cobb generated strong reactions when the group's
Blue
album, a recreation of
Kind of Blue
, came out.
Smith has played with musicians from all over the world, and is known for long-running collaborations with guitarists Henry Kaiser and Sandy Ewen. Some of the work on
Balance Point Acoustics
that I've enjoyed recently include:
Sandy Ewen/Damon Smith - Background Information
Fred Van Hove / Peter Jacquemyn / Damon Smith - Burns Longer
Peter Kowald/Damon Smith - Mirrors Broken - But No Dust
One other outstanding album on which he plays is on the
Nuscope label
:
Magda Mayas / Damon Smith / Tony Buck - Spill Plus